A Vermont Family Dairy Farm Since 1835
Registered Jerseys Since 1917
Molly Brook Farm has been in the Goodrich family since 1835.  Jerseys have always grazed the pastures.  All of the Jerseys on the farm have been registered since 1917.  Just like the Goodrich family, the cow families at Molly Brook have also been on the farm for generations.  Every animal on the farm is known by name and has its own personality. 
Distinguished Dairy History
Molly Brook has a distinguished dairy history and over the many generations have received numerous awards and recognitions for their contributions to the Jersey breed and farming in Vermont for almost two centuries.  Around 1980, from our small hillside farm in Vermont the sale of quality Jerseys from outstanding cow families became a focal point of the dairy.  The Jerseys raised at Molly Brook have brought international recognition to the farm.
Molly Brook is committed to animal care, land stewardship, and hard work to produce high quality organic milk for consumers.  Molly Brook Farm became certified organic in 2018.  On a bitterly cold morning in January, the first batch of organic milk went into the pipeline from the cows in milking parlor to the bulk tank.   Jersey organic milk is packed with nutrients and an abundance of vitamins, minerals, proteins and fats that don't just make it a healthy but give the milk a rich and creamy texture that's naturally delicious.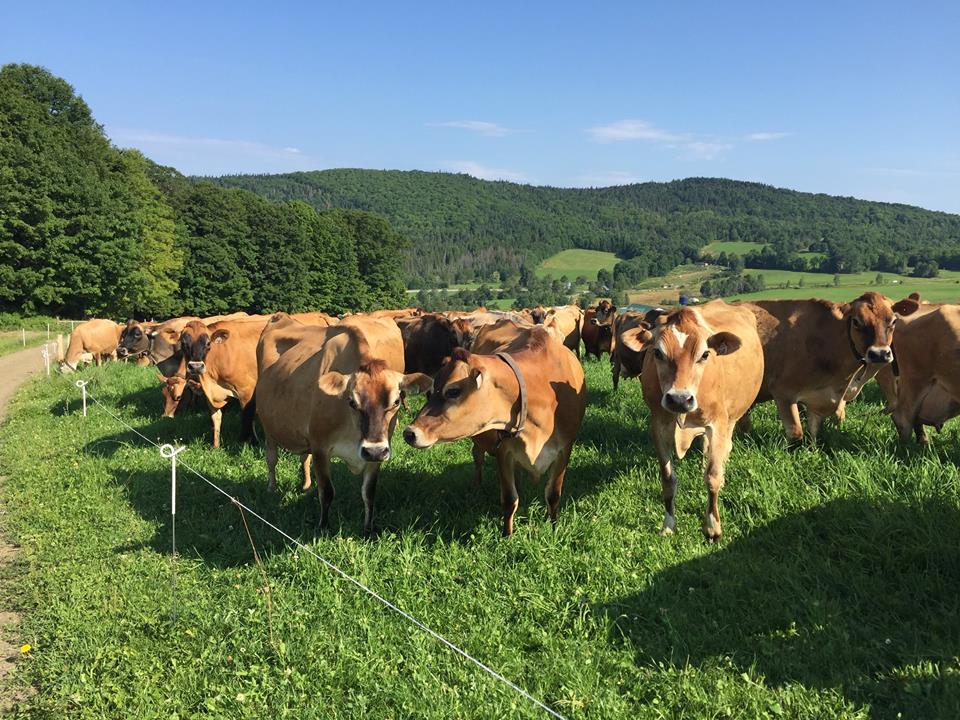 There's a bunch of reasons why we love Jersey's so much
The Jersey cow is an efficient little cow that produces milk with higher concentrations of protein and calcium. More protein and calcium not only boosts the nutrition of Jersey milk products, it also adds a richer taste, even to skim milk. And, Jerseys are the most efficient breed in converting feed into milk nutrients, producing 15 to 20% more protein and 15 to 18% more calcium per unit of feed.  Jerseys are a remarkably sustainable breed.  Jerseys use less natural resources which greatly reduces their carbon footprint.

We Value Rural Farm Life
At Molly Brook Farm, we love our Jersey cows, value rural farm life, and its importance to the Vermont economy.  From rural electrification and the introduction of the internal combustion engine to the impacts of the global milk market, the farm and our family have weathered a number of changes and challenges.  In truth it is a love of the land and animals that keep a family in one place for almost 200 years. 

Integrity & Quality
Integrity and quality are not just words to us.  We work 7 days a week and the work can be hard and exhausting.  We are proud of the high-quality nutrient rich organic milk that our Jerseys produce.  We care about the environment.  The resilience of our farm has relied on our ability to evolve with every new era in farming for the better part of 200 years.   We believe that organic is the future.   Myles Goodrich (7th generation) says it best, "It's a challenge to make everything work together but also rewarding to have a healthy herd of productive Jerseys, fertile land, and to work with family."