The sale of quality Jerseys from outstanding cow families became a focal point of Molly Brook around 1980.  The Jerseys raised on Molly Brook are prodigious producers known internationally for their genetics that started with a cow named Molly Brook Fascinator Flower.  Molly Brook genetics have brought world-wide recognition to the farm.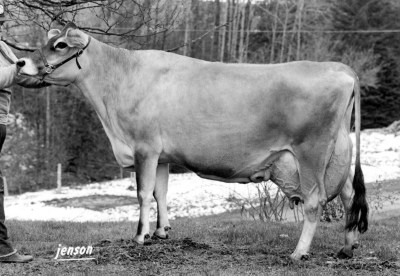 Molly Brook Fascinator Flower
Molly Brook Fascinator Flower, E-90%, has consistently put her stamp on her offspring. There are now twelve generations of progeny that trace back to her with over 135 Excellent females and 516 Very Good females. Her presence has been so far reaching that her lineage can be found on every continent except Antarctica.
This exceptional cow family is also known for its sons, with 123 bulls from this maternal line going into A.I. Sampling. Among this elite group is the great 29JE2865 Molly Brook Brass Major, with 11,304 daughters in 2,668 herds and his full brother 9JE68 Molly Brook Brass Top, 4,760 daughters in 1,420 herds, "Flower's" grandson, 7JE424 Molly Brook Glnwood Freedom-ET, with 7,979 daughters in 1,259 herds and her great-grandson 122je5127 Molly Brook Berretta Fanclub-ET, with 5,167 daughters in 691 herds.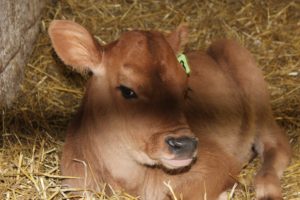 In May, 2017 Flower's daughter Molly Brook Berretta Flowerchild was born from an embryo kept frozen on the farm for 22 years. Pictured below is Molly Brook Fair Frost (Flower's great granddaughter)